Harry Potter Spells Booktag
I was just surfing through the blogs when I came accross the "Harry Potter Spells Booktag" on Clemi's Bookish World and couldn't resist doing this myself!! This tag was originally created by KimberlyFayeReads .. Huge Shout out to both these amazing people!
1. AN UPCOMING RELEASE YOU WISH YOU COULD GET YOUR HANDS ON RIGHT NOW
A Court of Frost and Starlight
Even the cover for this isn't out yet! How frustrating!!! I just finished ACOWAR recently and am totally in the mood for some more of Rhys, Cass and Azriel.. not to forget the beautiful and strong ladies but those three are the reason this book is my answer to this question.. 😉
Release date: May 1st 2018 (expected)
2. FAVOURITE SERIES STARTER
I am going to be extremely cliche and answer "Harry Potter and the Sorcerer's Stone" for this one. I fell in love with the characters, the friendships, the world and everything else with just this one book. It is my most re-read book ever!! That should explain mylove for this gem of a book!
3. A BOOK THAT GAVE YOU ALL THE WARM FUZZIES
A lot of people have read "The Notebook" by Nicholas Sparks but the ignore the beautiful sequel.  "The Wedding" picks up years after The Notebook and through a very mature yet fluffy tale shows how love doesn't just have to be for the young, how the youth is in the heart and that true love never really dies..or forgets..*major Allie and Noah feels*
I have read his other popular works as well but none of them made me as warm and fuzzy inside.
4. A BOOK THAT MADE YOU UGLY CRY
If you have read it, you know what I am talking about. If you haven't, what are you doing with your life? I mean.. go read it right now..
On other thoughts, read at your own risk as it The Book Thief will make you cry like nothing ever has before!!
5. BOOKISH HERO OR HEROINE YOU WANT AROUND TO PROTECT YOU IN REAL LIFE
I would want Lord Krishna to be my guide and protector. Maybe this is taking things too far as the character Lord Krishna is actually a Hindu deity and considered one of the greatest avatar of Lord Vishnu himself. However, since he is a character in the book..that would be my answer! To tell the truth, He already does influence my life!!
Mahabharata is the greatest Indian epic and has major mythological influence in it.
6. A BOOK YOU INTENTIONALLY SPOILED FOR YOURSELF
Not really intentionally, but I ended up spoiling Allegiant for myself while watching a random "How to avoid spoilers" video on youtube.. Yeah!! look at the irony of that!!
7. A BOOK YOU WISH YOU COULD MAKE EVERYONE READ BECAUSE YOU LOVED IT SO MUCH
Ref: Point 4.. yes I want you all to feel the pain and suffer!!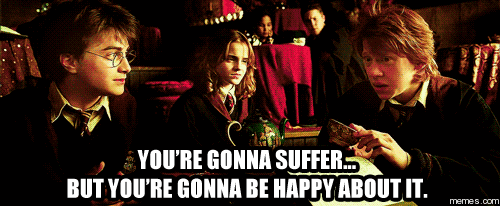 8. A BOOK SERIES YOU WISH NEVER ENDED
Yet another cliche answer.. but I guess this is not so unexpected from someone who is doing this post in the first place!
9. A BOOK WITH AN UPLIFTING ENDING OR MESSAGE
Even though The Fault in Our Stars made me cry and feel a lot of pain, it made me feel some simple truths in life. How life is not about the big things or how long you've lived it. it is about the small moments of love that make you precious, that really leave behind a part of you. That is how you'll stay, even when you are gone!
In this competitive world of mad rat race, this makes me think.. makes me want to live.. rather than survive.. or worse.. exist!
10. A BOOK YOU WISH YOU COULD FORGET YOU EVER READ
There are none that I'd obliviate. Every book that I have read is a part of who I am.. even the terrible ones. Let them all be there in my memory, if only for the reason.. to know which one never to pick up again! 😛
11. AN AUTHOR WHOSE BOOKS ALWAYS GET YOU OUT OF A SLUMP
And that would be Meg Cabot. To be honest, I find her books guilty reads only but I swear they get me out of a slump every damn time!! The Princess Diaries Series is doubtlessly one of the most addictive series ever!
12. A SWOON-WORTHY HERO OR HEROINE
Zain from Battle For Bittora is a truly swoon worthy guy! The blurb of the book itself says that he is "an irritatingly idealistic though undeniably lustworthy individual"
Well oh well!
13. A BOOK THAT CAUSED YOU TO STOP DOING ALL OTHER THINGS UNTIL YOU FINISHED IT

I went crazy with this one. All thanks to the characters reminding me so hugely of The Vampire Diaries. I couldn't get my brain straight till I finished at least two installments of this series. About to start the third one now! 😀
Wish me luck! 😉
14. A BOOK THAT WAS PAINFUL TO READ (FOR WHATEVER REASON) OR BROKE YOU
Once again, I was going to mention The Book Thief but then this one deserves mention here too. Between Shades of Gray broke me. I went into this book expecting nothing but by the time I was done I felt like I had aged a bit..with their experiences. Actually my heart shatters to pieces whenever I read war-time / war-zone books. They kill a small part of my faith in humanity.
15. A BOOK THAT HAD YOU LAUGHING OUT LOUD
I find the entire The Princess Diaries Series hilarious!!
16. A BOOK THAT MADE YOU WANT TO SEND IT (OR YOUR EREADER) FLYING
Somebody suggested I read this as it was by his favorite author but I just couldn't get into it. The names and places in The Afghan got me so confused that I did feel like giving it a flight!
17. BOOKISH WORLD YOU WISH YOU COULD VISIT
I so do not want to say Hogwarts.. but I really can't think of a better place!
18. A BOOK WITH A SCHOCKING TWIST OR ENDING
The plot twist in Everything, Everything blew my mind. The entire story and my thoughts on the book changed in a matter of a few words!!
19. A CHARACTER DEATH THAT DESTROYED YOU
Tom Robinson's death in To Kill a Mockingbird hit me so hard. I have wanted to re-read this book but the thought of the verdict is too painful.
20. BEST SERIES CONCLUSION
And the award goes to……*drum roll*
Even though I hope this series never ended.. J.K. Rowling did a fantastic job of wrapping up the story and tying up the loose ends. *bows to the Queen*
I had so much fun doing this! If you are reading this..I tag you to try it out!
Do you largely contradict/agree with me on any answer? Let me know in the comments section. Also, if you are doing this tag, post your link in the comments so that others may check it out too!! 😀